July 2013 Newsletter
A Wonderful Comment and New Award For The Yawning Rabbit River Chronicle
"….. I see that [The Yawning Rabbit River Chronicle] works and has a magic that is the traditional magic that is lost in children's books today. I think the magic is the real belief that lies in the authors' hearts and minds, the enthusiasm for what they are doing."  Jacquie Monda   June 2013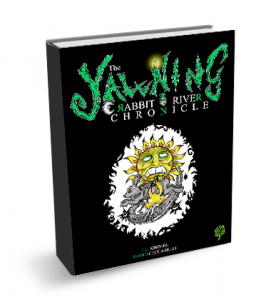 Add TYRRC to your reading list this summer!  This award winning adventure story about caring, taking chances, moving forward no matter what, and being good to each other continues to win new fans young and young at heart.  The Yawning Rabbit River Chronicle is a story that will enrapture, inspire, and not let you go until the last puzzle piece falls into place.
Go here to view the entire newsletter.

Teen Space Blog Summer Reading List
The Yawning Rabbit River Chronicle by J.L Kimmel and David Ceccarelli; illustrated by David Ceccarelli.
"Old enemies once again threaten the existence of the Yawning Rabbit River and the safety of the animals and humans dependent upon its survival."
Epic. Along the lines of the Hobbit, Tuck Everlasting and the great fables and legends, this story told in 3 parts, brings a forest and it's inhabitants to life in the most delightful way.  It definitely is geared for younger teens (age range 10-14), but all teens and adults will enjoy it as well.  Good and evil animals and humans fighting for survival, friendship and love.  All the good stuff, unlike anything I've read in a long time.